Fix Kodi Covenant no stream available : Hey guys, Before we start i want to tell you something about this post. Based on my personal experience with Kodi i have posted this article so it can help you to fix the problem or may be not help you.
Many kodi Covenant user fixed the problem through my guide. I'll not force you to buy any VPN services so beware about that and take a look on my guidance.
Comments by Reddit user :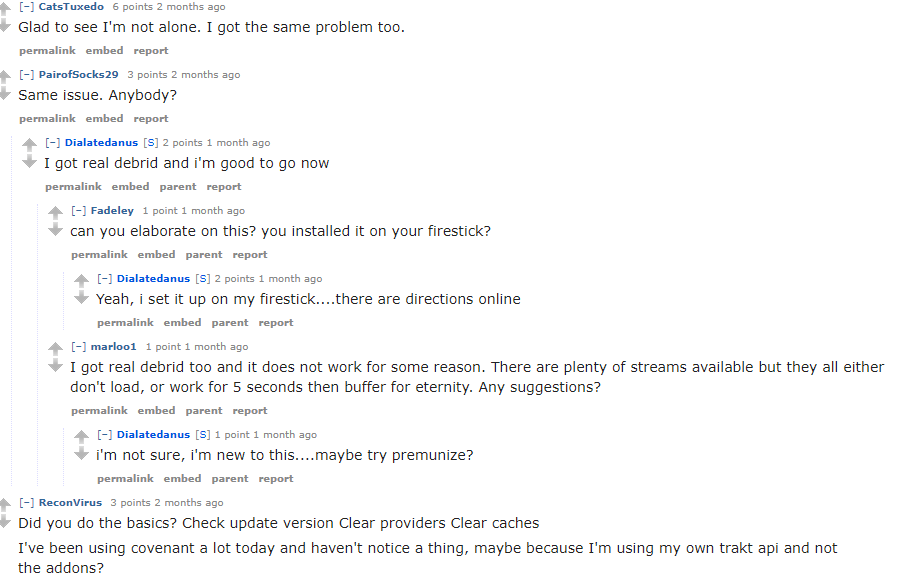 One more thing, I personally believe that if someone is fixing this error then we are also able to fix this error. (If problem with our end).
Also Check UKTVNow Addon not working : Click here
1.   Make sure you are on the latest Covenant version If you do not know your Covenant version, go to Kodi home screen and then navigate to Addons -> My Addons -> Video Addons. Scroll and find Covenant, on right hand side you will see a number start with 1.1 which is your Covenant version.
2.   First Make sure your ISP is not blocking the links. If ISP is Blocking then please fix that. ( Try kodi on a phone or tablet and try the exact same links via 3G/4G, IF the streams work then you have an internet or ISP problem).
---
We recommend using a VPN to help keep yourself anonymous and protect yourself online. You can get 25% off any package from IPVanish which allows you to connect 5 devices to an encrypted VPN connection at any one time.
---
3.  Now Set Providers Timeout, Here is how to set :
From Covenant Main Menu select Tools again, and then select Settings : General
On next screen make sure you are on General, and then set Providers Timeout to anything between 20 and 30 by using the slider.
4.  Now Check that URL Resolver is up to date.
Go to SYSTEM- SETTINGS – ADDONS – INSTALL FROM ZIP then select
fusion/kodi-scripts/script-module-urlresolver3.0.X.zip
Make sure this is up to date.
5.  Clear Providers and Cache :
 Go to Kodi home scree, and then Addons ->Video addons and then Open Covenant and select Tools from Covenant Main Menu.
Once in Tools click on Clear Providers, select Yes when prompted. Next click on Clear Cache, and select Yes when prompted.
Then reboot addon and box. (Please don't forgot to Reboot)
6.  Make sure the time and date is correct on Kodi and your device (also check your internet connection is working fine and your other addons actually play streams.
7.  If you are using a PC or Laptop make sure your ANTI VIRUS is disabled for Kodi.
8.  After trying all this if still problem is not fixed then please uninstall your addon then reboot. Now Reinstall addon from correct Repo (Try Official)
These were all possible reason for Kodi Covenant no stream available. If still you are getting this error then i believe this problem is with addons end.
I'll update the post once i get the more possible fixes.
Please Share the post if you think this can be helpful.
Thank you so much.